Utilities are staring down a set of operational risks unlike any other time in their history.
The push to end reliance on fossil fuels is shifting power generation away from coal and toward clean but inconsistent wind and solar. Environmental guidelines are putting pressure on gas companies to reduce emissions while maintaining reliable service.
Meanwhile, urbanization is placing more demand on infrastructure at the same time those assets face higher risk from extreme weather and age-related wear and tear. A workforce nearing retirement adds another layer of uncertainty.
"Between keeping the lights on and building the infrastructure for a better future, utilities have a lot on their plate," says Corey Capasso, Urbint founder and CEO.
Technology forms a key part of solutions that are rising to meet these challenges. But what tools are top of mind for utilities? And how are they using them to mitigate risk to their operations?
Recently, Urbint partnered with Utility Dive to find out. Here's what industry leaders said.
The top tools and technologies for utility risk mitigation
For our recent research report, "The State of AI in the Utility Industry", Urbint and Utility Dive surveyed 150 leaders across different utility categories and job functions to learn how they're using technology for risk mitigation.
Each company has its own initiatives, but the trend across the industry was clear: Utilities want to put their data to work.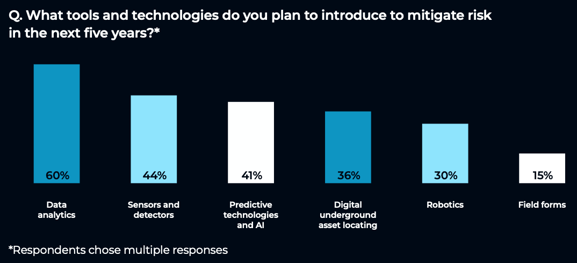 Survey respondents noted the following tools and technologies as their top priorities for risk mitigation:
Data analytics — 60%
Sensors and detectors — 44%
Predictive technologies and AI — 41%
Digital underground asset locating — 36%
Robotics — 30%
Field forms — 15%
"Over the next five years, three in five survey respondents plan to introduce data and analytics to help mitigate risk," says the report. Over two-fifths plan to introduce predictive analytics or artificial intelligence (AI).
These categories cover a wide range of solutions. But the responses as a whole show strong interest in leveraging data to reduce risk to utility operations — whether that's exploring dashboards to track trends in asset health or using AI to forecast damage to critical infrastructure.
Data analytics vs. AI — two sides of the same coin
Data analytics took top billing in the survey. But analytics often goes hand-in-hand with other realms of data science, including AI.
"Big data analytics is the use of processes and technologies, including AI and machine learning, to combine and analyze massive datasets with the goal of identifying patterns and developing actionable insights," according to analytics vendor Qlik.
Analytics draws on historical data to anticipate future events. AI can automate steps in this process to increase the speed and accuracy of analysis. Rather than standing as different solutions, both analytics and AI are more like different rungs on a ladder of maturity for data-driven decision-making.
Still, no company adopts technology for technology's sake. Advances like AI are only useful when they're addressing an actual business problem.
"Any time a utility is adopting AI, it should really be tied to an existing operational goal — and the outcome of that adopted and integrated technology should be some sort of quantifiable impact on their business," says Capasso.
"It's not about the technology itself in broad terms. It's about the technology adoption being aligned to existing business goals and existing operational KPIs that those folks are measuring."
People + process + technology = results
Of course, technology is also only one part of the equation.
"Utilities have regulated processes that they have to follow in the field," says Capasso. "You have to be able to incorporate AI or any technology into those processes so that the right people at the right time can take the right action."
People, process, and technology must all work together to produce the desired outcome — whether that's fewer safety incidents or fewer damages to underground assets. But scarce resources mean utilities may lack the capacity to achieve those outcomes. Fortunately, one part of the equation can make up for deficiencies in other areas.
"Utilities don't have the ability to observe all the work their team or contract partners are conducting," Capasso said.
"In certain cases, utilities maybe have a safety observation or inspection team that can inspect only one to five percent of the work going on. AI can make those inspectors far more efficient and effective at finding unsafe work because it directs them to the sites at highest risk.
"The direct byproduct of that is going to be fewer incidents, and it's also maximizing the investment they're making in observers and inspectors."
Data technologies, full speed ahead in 2023
Interest in AI has exploded in 2023, driven by models like ChatGPT and Stable Diffusion. Yet, these generative tools are only a small part of the $100 billion AI market that Statista suggests could expand to almost $2 trillion by 2030. The rest includes applications that draw on data to address less headline-grabbing problems — identifying cancer cells, preventing credit card fraud, or protecting workers from safety incidents.
"With operational budgets increasing and a growing understanding of the value of AI, 2023 could be a turning point — a chance to better leverage the technology's potential to enhance grid resilience and reliability," says Urbint's report.
The mounting challenges faced by utilities and the tailwinds of recent legislation are now driving utility leaders to explore data technologies with unprecedented fervor. After all, the risks are pervasive. All utilities can do is explore new ways to address them.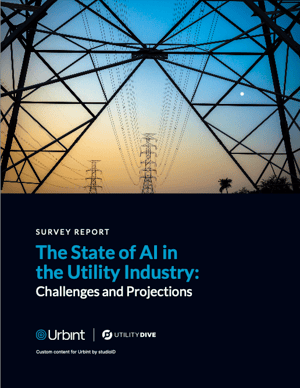 Want to know more about the trends utilities leaders see around AI and data technologies? Get "The State of AI in the Utility Industry", the latest research report from Urbint and Studio ID. It details utilities' biggest challenges, priorities for the future, and patterns they see influencing adoption of AI and predictive analytics to mitigate the risk facing the industry.
Read it now to learn …
What are utilities' biggest challenges with maintaining service reliability?
What are the top strategies the industry favors to reduce operational risk?
What tools and technologies are leaders prioritizing to stay functional?
What's standing in the way of utilities achieving their goals?